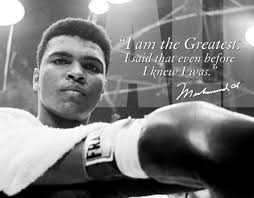 It was the early 1980s.
The sad thing is I should be able to give the exact date and time it happened because Mohammad Ali signed my boarding pass stub on a flight in first class from Chicago to L.A.
The flight is also connected to my very first visit to Hawaii, a place I treasure.
One of Norvell Hayes' friends was a travel agent and wanted to impress Norvell. So, the guy got me the first class flight to LA where I was speaking with much more well-known speakers. This is where I met Donna Douglas, who became a very sweet friend, Johnny Rivers who sang for us at the LA Civic Center and Todd Fisher, the son of Debbie Reynolds and Eddie Fisher. (Probably better known as the brother of "Princess Lea", Carrie Fisher.) I was this Tennessee boy dropped into another world.
Ali was across the aisle from me to my left in the center nose section of the jumbo jetliner in the first row of first class. No, I never ever rode first class before, but his time I did. Ali was with his wife. He was copying onto a legal pad words from the Koran. Ali left a space between each line he copied. Somewhere in the flight his pen ran out of ink. He reached over to me and said, "Excuse me, do you have a pen I could use?" I said, "Yes, I do" and handed him the pen from my suit coat pocket. He thanked me and continued writing from the Koran to the legal pad.
As our flight was preparing to land, Ali touched my arm and smiled thanking me for the use of my pen. As he handed it back, instead of taking the pen, I handed him my boarding pass stub and asked if he would be so kind as to sign my boarding pass. He was happy to do so and handed my pen and the signed boarding pass stub back to me.
As we were disembarking the aircraft, Ali said "Thank you again. Goodbye". His wife simply smiled.
I know it is just a little story, but it's one I want to remember. Thank you for letting me share it. Stories are powerful and can teach us much.
The autographed boarding pass stub? It was in a bedroom drawer for years. I haven't a clue where it is now. Dang! Maybe it will turn up one day!
Michael Lilborn Williams