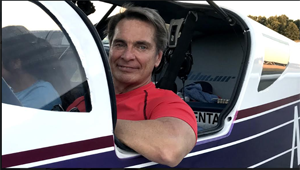 Pictured here in his own airplane, Randy was raised as a lifelong Pentecostal preached his first sermon at 15 years old in an Assembly of God Church as a Young Peoples leader, travelling with the Christian Troubadours of Nashville Tennessee in the Seventy's.
He is the owner and producer of the Sound laboratory Recording Studio in Grand Haven, Michigan, and plays guitar, bass, banjo, piano, drums and features both as a lead and backup singer on many albums over the years.
In his own words…
As a Music Pastor (Worship Leader) and Technical director of a large Non-Denominational church in the early 90's where I reluctantly met Mike, I was NOT a fan, My judgmental, SELF-righteous, hypocritical, religious mind set was way too confident to have any love or grace in my heart for an X-Homosexual as he was billed at the time. I detested Mike Williams when he first met him in April of 1992, when I produced 2 videos of him when he came to my local Church. I found that same video 10 years after I thought that I had destroyed every possible recording of him. I decided to listen to the sermon on Grace that I remembered some in my church loved, and just as many hated! The Church decided to never have Mike back. I was at a point in my life where I doubted everything I was taught in Christianity, so I listened to the same tape I recorded 10 years earlier a 100 times over and over for a year or more. I shared the video with my cousin who was also raised under a pew and frustrated with Christianity, he subscribed to The Gospel Revolution and gave me some newer Mike Williams tapes. I could not stop listening to the heresy because I could NOT find any evidence it was in error. Three years later after hearing several more of Mike's messages, and trying to prove them false, I surrendered to the unconditional love of the Gospel of Grace and the Gospel of Peace.
I invited Mike up to Michigan and shot the video; "The Fruits of Righteousness" that you see on the Gospel Revolution Website. I offered my services as his audio and re-mastering engineer, and the rest is history that is still being made.